Tips for planning your journey in your EV
Plan your route
Plan your stops at correct intervals to ensure you comfortably reach your destination.
Understand your EV
Know the range of your electric car and how far you can drive on a single charge.
Bring cables and adapters
Ensure you have the appropriate cables and adapters for the charging stations you plan to use.
Learn more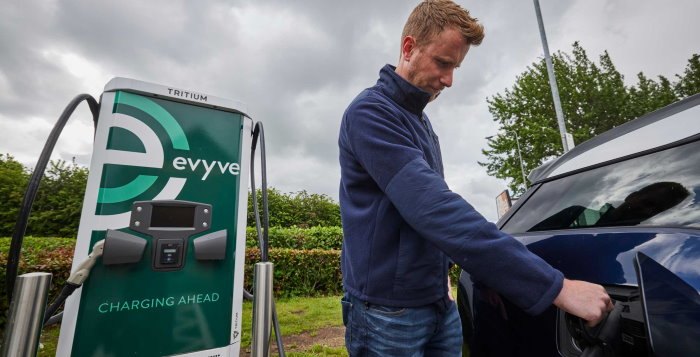 What affects the charge speed of an electric car?
Battery capacity, status, temperature & more
All electric cars charge at different speeds and the same car can charge at different speeds at different times. To navigate through this, we've put together a list of several factors that can affect the speed of an electric car charge.
Learn more
How to charge an electric car?
Locate
Locate your nearest charging station using our find a charger map or by downloading our app.
Connect
Open the charging port on your car and connect the charging cable. Make sure the connectors are securely plugged in.
Activate
Activate the machine by tapping your payment card or by following the instructions in the app.
Monitor
Monitor your charging progress and when you're finished tap your payment card or follow the instructions in the app.
Learn more
Explore Evyve
Why only charge my car to 80%?
Make car charging simple with the evyve app*
*Charge via our app for instant access to VAT invoices
Download the Evyve app, available on Android and Apple IOS, for a reliable and smooth charging experience
Find charging stations in your area and check live charge point information including availability and performance.
Scan the QR code on the terminal to set up your charge session. Just plug in your vehicle and follow the instructions in the App.
Start your charging session and make payment in just a couple of clicks. Monitor your usage and press stop at any time.
Get in touch
For driver support or general enquiries, please contact us using the link below.
Get in touch